About Us
At Helix Semiconductors, we're focused on efficiently powering all things electronic virtually everything that plugs into a wall – for decades to come. We combine research, data, global experience and intuition to create revolutionary energy-efficient power conversion products that are friendly to humans and their environment.
A fabless semiconductor design, manufacturing and sales company, Helix Semiconductors' corporate office is located in Irvine, California. Applications addressed by our power conversion technology include those in the consumer, computer, telecom, medical and industrial markets.
400 Volt / 180nm Chip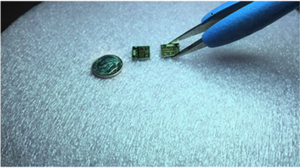 From light loads to heavy loads, Helix Semiconductors' core technology, MuxCapacitor, provides unparalleled efficiency across the entire range. The Helix MuxCapacitor virtually eradicates power supply heat losses with high efficiencies – all in one small package-making manufacturing easier and reducing the need for additional parts.
Our MuxCapacitor technology dramatically reduces the number of different core ASICs that a manufacturer needs to have on hand. Because so many of the typical power supply parts have been incorporated into the semiconductor integrated circuit itself, the 400V/180nm chip is the smallest available power supply module.